Understanding what is happening with the Mid Peninsula real estate market is not an easy task these days. As Realtors centered in San Carlos CA, we have felt a market shift. As we tour homes on Tuesday mornings, other local Mid Peninsula Realtors echo the refrain. Yet, the statistics are confusing, because not all the numbers are bad. We are definitely not in a market free-fall. We would describe the Mid Peninsula real estate market as contracted yet still strong.
After digging into the numbers, here is what we know about single family home sales along the Mid Peninsula (Belmont, Foster City, Redwood City, Redwood Shores, San Carlos, and San Mateo):
1. Year-over-year prices are up
The sold price per square foot on homes sold January 1 through November 30, 2022 increased over the same period in 2021. The increases range from 6% to 10%, which is less than the consistent double-digit increases seen in previous years.
2. Monthly prices are still decreasing in some communities
The monthly sold price per square foot in all the communities studied began to decrease during the second quarter. The slide continued for some communities in November (yet at a slower rate). Belmont real estate prices and San Carlos real estate prices actually increased from October to November.
3. The number of single family homes sold is down
The chart below clearly illustrates that fewer homes have sold in 2022 as compared to 2021. As prices began to drop in May, the number of homes sold dropped off sharply. Some of this is due to sellers holding off on selling, and some of it is homes left on the market without selling.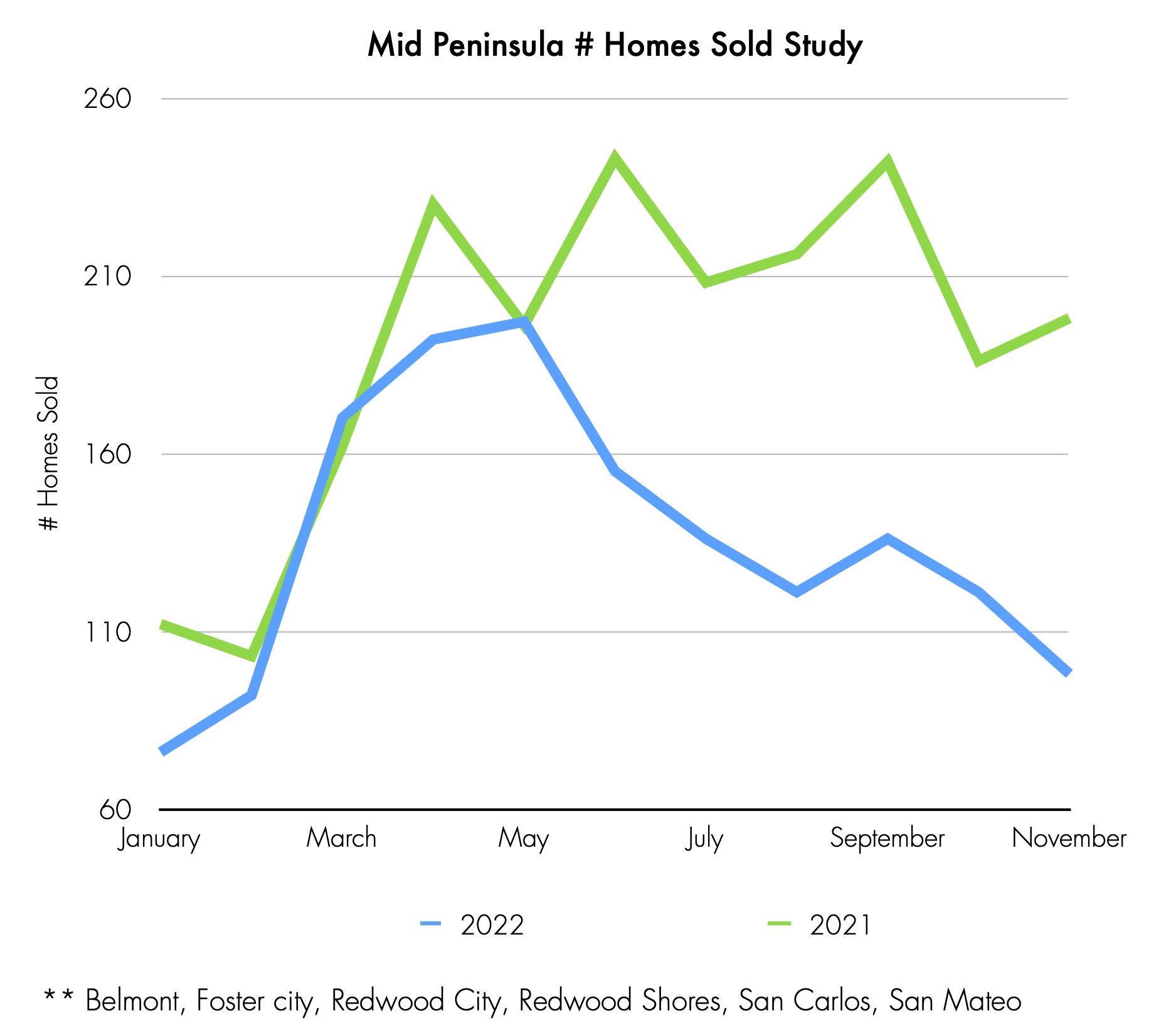 4. Available inventory is growing
Back in 2021, most everything that came on the market sold right away, so that the number of sold homes in a month was greater than the number of homes still on the market. In June, that pattern reversed, so that each month since there have been more homes left on the market than homes sold.
5. Days on Market are up
Single family homes are definitely taking longer to sell. In March 2022, it only took 8 days on average to sell a single family home in the communities studied. In November, it took 27 days on average (over a 200% increase). Buyers now have more homes to choose from and are definitely on the lookout for a good deal.
6. Sales/list price % is down
In the first quarter of 2022, the average home was selling close to 20% over the asking price. This points to multiple offers and an extremely strong seller's market. In November, the average home sold for less than 100% of the asking price. This points to a less competitive environment.
Mid Peninsula Real Estate Summary:
Our Mid Peninsula real estate markets are still strong and active. Quality, well-priced homes in good locations are still selling well (some even with multiple offers). Yet, without a buyer frenzy, we are seeing some important shifts. Without multiple offers, we are now seeing buyers write offers with contingencies. After getting into escrow, some of these buyers are then negotiating the price down further through issuing a Request For Repairs.
These conditions call for a skilled listing agent who can manage these complexities and a seller who is willing to adapt to the current market conditions. First and foremost, preparing a home for sale (including attending to deferred maintenance and repairs) and pricing it right is more important than ever. Managing risk by procuring a back-up offer is also key.
We at Veritas Homes are Mid Peninsula market experts and able to help both buyers and sellers find success in any market. Call Val Vandervort at 650-740-6025 to set up an appointment.
To learn about market conditions in San Mateo for first-time homebuyers, read "First Time Home Buyers: The Village San Mateo vs Sunnybrae San Mateo"