Bay Area Housing Market Summary:
With Silicon Valley in our back yard, incredible weather, and natural beauty all around, the Bay Area is a great place to live (minus the traffic). The beach is an easy drive, the mountains are within a couple of hours, our professional sports teams delight, and culture abounds. This creates a challenge for home buyers, though, because our real estate is very expensive. The Bay Area housing market is a pillar of strength, with conditions usually favoring sellers.
Over the last few months, amidst challenging economic conditions throughout the country, evidence of a slumping Bay Area housing market has emerged. Our Mid Peninsula enclave has definitely seen changes, including increased days on market, decreased sales/list percentage, and decreased average price per square foot and median sales price. We are also seeing more price adjustments and the re-emergence of contingent offers.
What is a Buyer's Market vs a Seller's Market?
A good way to analyze the condition of any housing market is to review the Months Supply of Inventory - the number of months it would take for the current inventory of homes on the market to sell given the current sales pace. It is a calculation that helps quantify the relationship between supply and demand. As the Months Supply of Inventory increases, buyers are put in the driver's seat with more available homes to choose from and increased negotiating ability. Nationally, the definition of a buyer's market vs a seller's market are as follows:
Under 4 months supply of inventory = Seller's Market
4 - 6 months supply of inventory = Neutral Market
Over 6 months supply of inventory = Buyer's Market
Do we need new definitions for the Bay Area housing market?
Because our Bay Area housing market is so strong, it can feel like we are in a perpetual seller's market (especially when you are trying to buy a home). It made us wonder if we should use a different scale to define the market conditions here. To help us do the analysis, we looked at Months Supply of inventory since 2007 - the beginning of the housing crash and the Great Recession until today. This chart allowed us to see how our Mid Peninsula real estate markets performed during the worst of times. As we normally do for a logical comparison, we are only looking at the communities of Redwood City, San Carlos, Redwood Shores, Belmont, San Mateo, Foster City, which we categorize as Mid Peninsula luxury markets.
Adapted Definitions - Mid Peninsula Luxury Markets
The chart below shows Months Supply of Inventory from the beginning of 2007 to present day for our Mid Peninsula luxury markets. It makes sense that from 2007 to early 2012, these communities (and the rest of the nation) were experiencing a buyer's market. After the Bay Area real estate market recovered, we were returned to a seller's market, until just recently.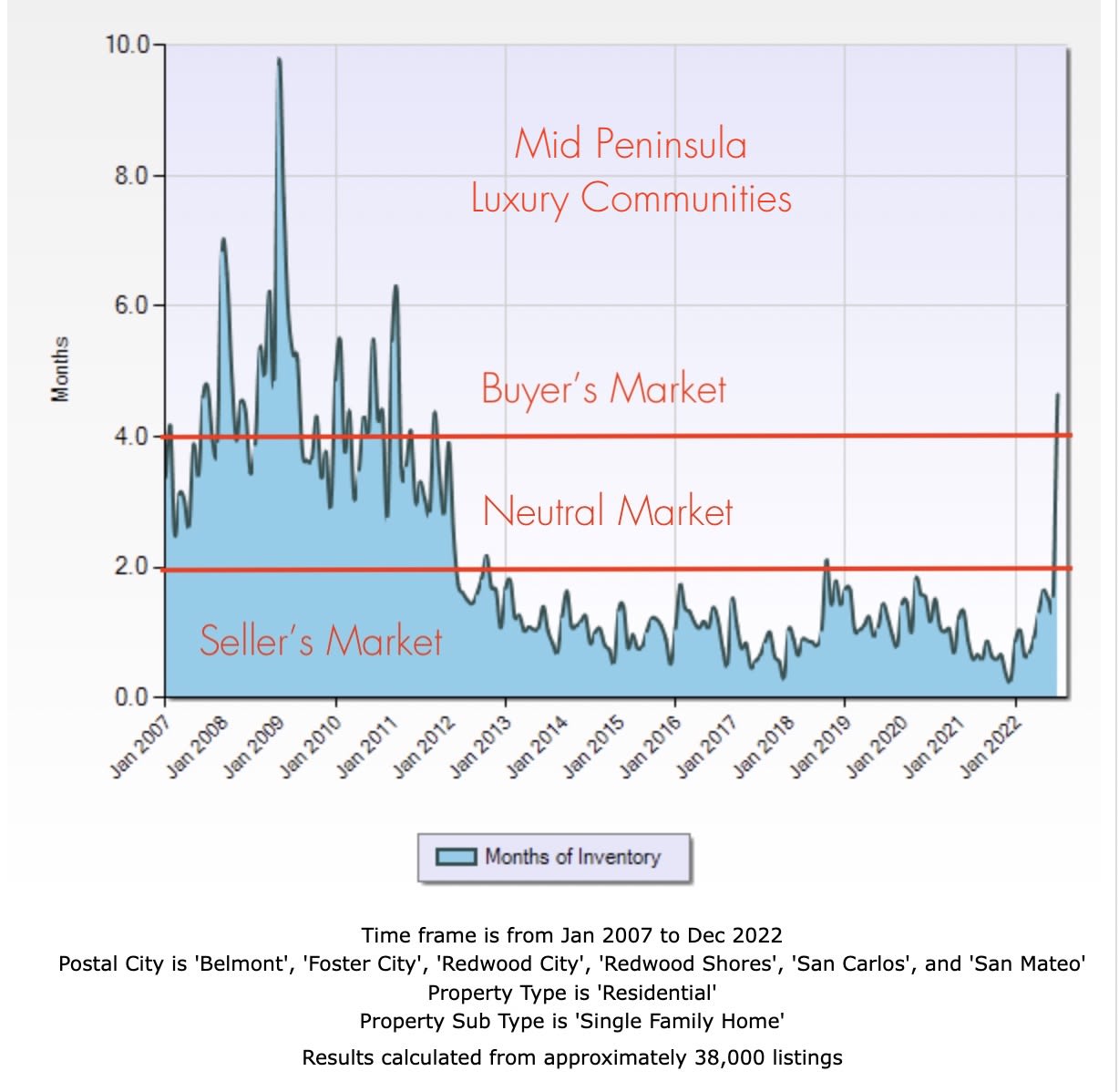 This chart led us to adapt the national definitions to better reflect our Bay Area real estate market conditions.
0-2 months of inventory = Seller's Market
2-4 Month of Inventory = Neutral Market
Over 4 Months of Inventory = Buyers Market
The next chart shows a detailed view of months supply of inventory over the past five months for our Mid Peninsula luxury markets. It shows that we have experienced a market shift, moving out of a seller's market, through a neutral market, and into a seller's market (as of October 14, 2022).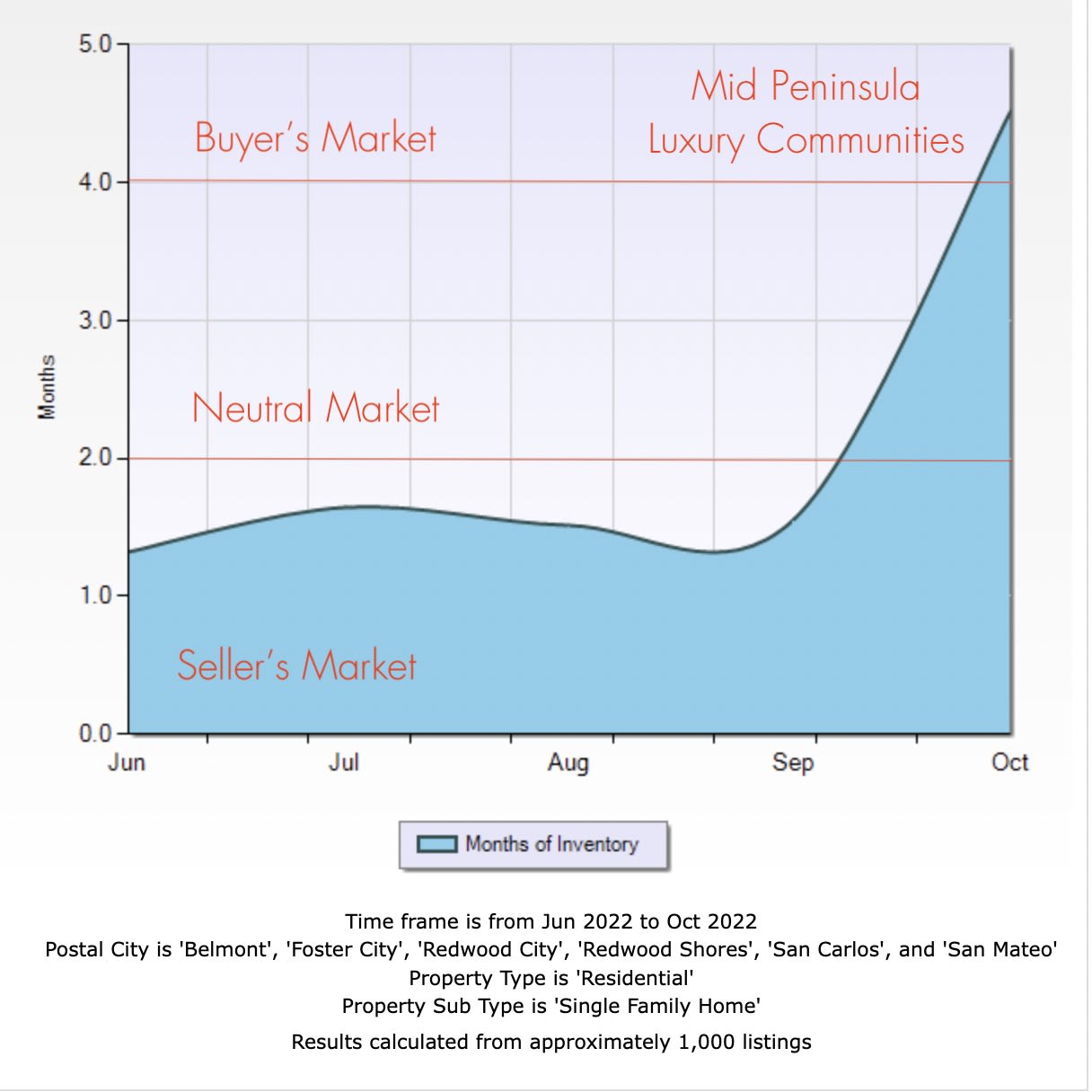 Keep in mind that months supply of inventory is only one indication of real estate market strength. To fully understand market conditions, make sure and read our Mid Peninsula market updates. Also, stay tuned for a follow up post on our Mid Peninsula Ultra-Luxury markets. Because the price points are so high, these markets could look quite different
Veritas Homes is a boutique residential real estate brokerage servicing home buyers and sellers on the San Francisco Mid Peninsula. Founded by Val Vandervort, Veritas Homes (Latin for "Truth") is committed to providing outstanding customer service to all and operate with "Truth" at the center of all we do.