Even though the summer heat is still upon us, it is officially back-to-school time in the Bay Area. When I was a youngster (decades ago), this rite of passage never occurred before Labor Day, but not so today. Many students and teachers have been back in the classroom for a few weeks already. It is a perfect time to look at high school ranking data and see how Mid Peninsula schools compare with the best high schools in California.


The quality of a city's public school system affects real estate prices. Even if a homeowner does not have school-aged kids, there is a sense of solidity in being associated with quality neighborhood schools. Good schools attract a larger buyer pool and bring a sense of community to the whole town. Cities with quality public schools also tend to have less market volatility.


Because high schools are the pathway to college, there is a particular focus on these institutions. Parents peruse websites, consult work associates, and visit school sites to find a good fit for their students. A good source for comparing public high schools in California and across the Nation is the
U.S. News & World Report

.
The website compares nearly 24,000 public high schools in 50 states and the District of Columbia and assigns a ranking.
We are lucky in the Bay Area to have a good collection of the best high schools in California. Acalanes Union High School District, Fremont Unified School District, Pleasanton Unified School District, Los Gatos Saratoga Unified School District, San Jose Unified School District, San Francisco Unified School District, East Side Union High School District, San Ramon Unified School District, Piedmont Unified School District, and Palo Alto Unified School District are all represented in the top 100 school districts in California


The Mid Peninsula also has some of the best high schools in California, and Carlmont High School California is the crown jewel, with a U.S. News and World Report ranking of 74th in the state. Carlmont is located in the city of Belmont California and is a part of the Sequoia Union High School District, but all of Redwood Shores and a large portion of San Carlos are are also slated for Carlmont high school. San Carlos real estate, Belmont Real Estate, and Redwood Shores real estate are particularly strong due to the quality of Carlmont High. Other portions of San Carlos send students to Sequoia High School, which carries a ranking of 260 in California. Other highly ranked Sequoia Union High School District schools include Menlo Atherton (#248) and Woodside High School (#536).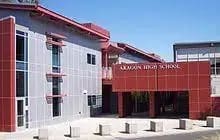 High schools in San Mateo are also well represented in the U.S. World & World Report rankings for California. Aragon High School (my alma Mater) is the star of San Mateo high schools at #122 in California. Burlingame High School (#154), Hillsdale High School (#277), and San Mateo High School (#287) also stand out.
When you purchase a Mid Peninsula home, you are committing a large amount of capital, which includes the addition of a hefty yearly property tax bill. These taxes go toward the local public school system, so buying a home in a community like San Carlos California means that homeowners with school-aged children can avoid extra private school costs. This is huge!
If you would like to learn more about San Carlos California real estate, Redwood Shores Real Estate, Belmont real estate, homes in San Carlos, Carlmont High School, or high schools in San Mateo, we are here for you! We love our communities and our local schools. Call Val at
(650) 740-6025
with any questions or email her at
[email protected]
.
Veritas Homes
is a boutique residential real estate brokerage servicing home buyers and sellers on the San Francisco Mid-Peninsula. Founded by
Val Vandervort

,
Veritas Homes (Latin for "Truth") is committed to providing outstanding customer service to all and operate with "Truth" at the center of all we do.If you would like to learn more about real estate on the Mid Peninsula, read
The Sky is NOT Falling
or
Vandervort Group Mid Peninsula Market Breakdown – July 2022