The news has been filled with bad economic news - including residential real estate. Most conversations I participate in include a belief that real estate markets across the U.S. will continue to fall. With sky-high gas prices, a prickly stock market, and rising interest rates, this point-of-view is not without merit. As we did our monthly statistical analysis of our Mid Peninsula real estate markets, though, we were surprised to find that closed sales in September 2022 showed some improvement over August 2022.
This caused us to dig deeper, wondering whether Mid Peninsula real estate markets are bouncing back. Let's take a look! Keep in mind that the data shown is based on the sold date, which lags approximately 30 days from the day the home went into escrow.
September vs August 2022: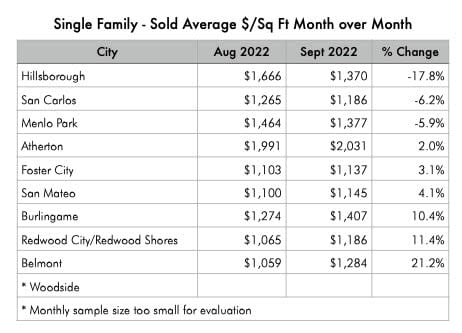 The table above, sorted by % change, shows that many communities saw improvement in the average price/sq ft on sold single family homes for September 2022 over August 2022. Hillsborough real estate, San Carlos Real Estate, and Menlo Park real estate were the exceptions. Burlingame real estate, Redwood City real estate, Redwood Shores real estate, and Belmont real estate all experienced double digit gains over the same period. This is great news!
Q3 vs Q2 2022: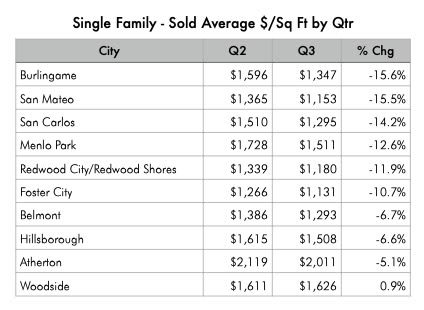 The data for Q3 over Q2 is less favorable. As you can see, most Mid Peninsula communities experienced a double digit decrease. This data is consistent with what we hear on the news. The only bright spot on this chart is Woodside real estate - the only community that showed a small gain.
September vs 2022 High: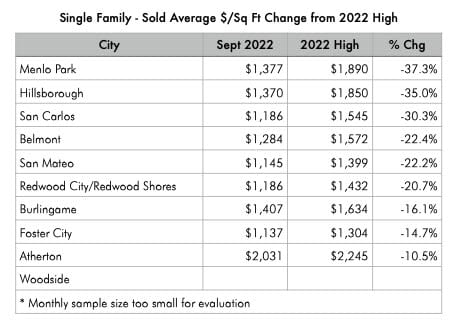 Our analysis of Mid Peninsula real estate markets continued by looking at monthly data for 2022 and identifying the month with the highest sold price/sq ft for each community. Although there was some variation, most communities had their high in May (which would translate to a sale in April). We would consider this the peak of the market. The table above shows that every Mid Peninsula community has experienced double-digit losses in sold price/sq ft on single family homes when comparing September to the 2022 high. Menlo Park real estate, Hillsborough real estate, and San Carlos real estate all had losses over 30%, which is significant. The bright spot was Atherton real estate which only experienced a 10.5% loss.
September vs 2022 Low: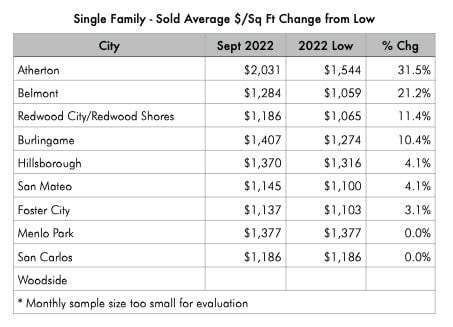 We also looked at the 2022 low sold price/sq ft for each Mid Peninsula community and found that most bottomed out in August/September (which would translate to a sales date in July/August). Atherton real estate was the bright light, with September data coming in at 31.5% higher than the low month. Menlo Park real estate and San Carlos real estate show that September was also the 2022 low.
Mid Peninsula Real Estate Summary:
We at Veritas Homes keep a close eye on Mid Peninsula real estate markets. We see this as one of our biggest responsibilities. The sales data for September does show signs of a rebound for most communities. This does not mean that we are going back to business as usual. Our previous blog post about Months of Inventory shows that it is increasing, which is a sign of a shift toward a buyer's market.
What we do know is that our markets are strong and resilient. Our real estate prices are slow to decrease and quick to rebound. This is what makes Mid Peninsula real estate such a wise investment. Stay tuned as we watch what happens from here!
Veritas Homes is a boutique residential real estate brokerage servicing home buyers and sellers on the San Francisco Mid Peninsula. Founded by Val Vandervort, Veritas Homes (Latin for "Truth") is committed to providing outstanding customer service to all and operate with "Truth" at the center of all we do.